Download your copies...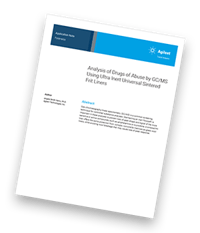 Analysis of Drugs of Abuse by GC/MS Using Ultra Inert Universal Sintered Frit Liners
Gas chromatography/mass spectrometry (GC/MS) is a common screening technique for controlled substance analyses. Maintaining an inert flowpath is important in these analyses to prevent loss of peak shape and signal of the more sensitive or active compounds, such as amphetamine or oxycodone. This application note demonstrates how a sintered frit liner offers the same protection from complex nonvolatile matrices as glass wool liners, while avoiding wool breakage that may cause loss of peak response.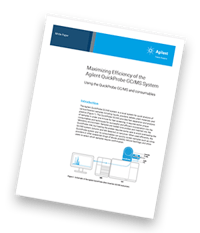 Maximizing Efficiency of the Agilent QuickProbe GC/MS System
This application note introduces the Agilent QuickProbe GC/MS system — a novel system for quick analysis of various forensic samples including liquids, powders, tablets, plant materials, and plastics. The QuickProbe GC/MS provides fast separation and analysis of samples in under one minute for fast screening. When used efficiently, the QuickProbe system and its consumables can quickly screen samples such as white powders or other suspected drugs of abuse, possibly reduce backlogs, and allow users to select which samples require confirmation.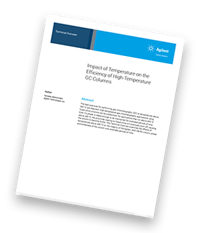 Impact of Temperature on the Efficiency of High-Temperature GC Columns
The best practices for performing gas chromatography (GC) at temperatures above 360 °C are disputed. High-temperature gas chromatography applications using fused silica columns can be problematic for applications that run above 400 °C. This technical overview examines the effects of temperatures above 400 °C on the integrity of the Agilent J&W DB-5ht column phase and brittleness of the column over extended periods of time.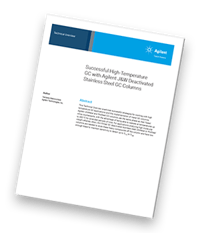 Successful High-Temperature GC with Agilent J&W Deactivated Stainless Steel GC Columns
This technical overview examines successful strategies for working with high temperature GC applications and the implementation of metal GC columns. Agilent UltiMetal and ProSteel GC columns use the same phase as their fused silica counterparts, with the advantage of being able to operate at temperatures up to 430 °C for extended periods of time. For applications analyzing high molecular weight alkanes, short, thin filmed GC deactivated stainless steel UltiMetal or ProSteel columns are needed to elute these heavy compounds off the column and have low enough bleed to maintain sensitivity to detect up to C114 to C120.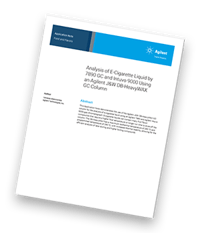 Analysis of E-Cigarette Liquid by 7890 GC and Intuvo 9000 Using an Agilent J&W DB-HeavyWAX GC Column
This application note demonstrates the use of the Agilent J&W
DB-HeavyWAX GC column for the analysis of e-cigarette liquid using an Agilent 7890 and Agilent Intuvo 9000 gas chromatograph. E-cigarette liquids can contain many fruit flavor compounds that require a higher final temperature or longer run time to elute off the column. The
DB-HeavyWAX has a maximum isothermal temperature of 280 °C and programmed temperature of 290 °C, with increased thermal stability, allowing for the efficient analysis of later eluting and higher boiling compounds.


Complete the form on the right to download your free copies of these application notes.